The Sub
Beer Budget Rating - ££
Quality of draught beer
9.0/10
Professional pour rating
8.5/10
Pros
Super Stylish
Great range of beers available
Really simple to use
Great for variety
Brilliant all round flexible beer tap
Cons
Overnight chilling required
Sometimes noisy when pouring
No beer remaining indicator
Torps not in supermarkets
Torp lasts 15 days but not really an issue!
What is Krups The Sub Beer Dispenser?
Pouring perfect pints has never been so simple with Krups The Sub beer dispenser. Load up a mini-keg known as a 'torp' and you are on your way to draught beer nirvana.
Manufactured by Krups, who are well known for their range of stylish coffee machines, has also delivered a smart-looking draught beer solution for your home which will easily fit onto a standard-size kitchen worktop.
Once your torp is loaded in the bay pretty much like a torpedo all you need to do is pour. You will initially get a little bit of foam out on your first pull which you will discard and then after that, it's free-flowing goodness. If you haven't worked in a bar before you will need a couple of practice goes to master the art of the perfect pour but it shouldn't be too tricky to get hold of! Each torp is 2L in size so you will get about 4 pints out of one torp, pricing wise, a Heineken torp, for example, would set you back around £7 so that's about £1.75 a pint.
I love the Sub, mainly because there is a really good range of beers that are available. When you buy a keg you are limited to the same beer but the Sub allows you to have a Heineken one day followed by a Lagunitas IPA the next should the need arise. Once your favourite torp is loaded the Sub will keep your beer fresh in the bay for 15 days but to be honest I've never been able to drink one that slowly!
Which one should i choose?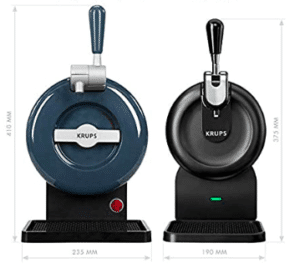 The Sub is available in a range of colours to suit your kitchen, home bar or man cave but there are also two versions available, the regular Sub and also compact versions as you can see in the picture.
In terms of choosing, the compact version is less expensive coming in at around £89 and is smaller in width but is just as long as the regular Sub in order to be able to fit in the torps. The regular Sub is wider and comes in at around £109 for the standard unbranded model. There is also a Heineken-branded version available for anyone with an affinity to one of Amsterdam's finest lagers
Personally, unless you are really limited on space I would go with the regular Sub mainly due to its sleek design and more solid tap although whichever one you end up purchasing will certainly not compromise on the quality and taste of your beer.
How does it work?
It's super easy to use, watch the video below to see how easy it is…
There's a power button that changes from red to green once the beer is at the perfect pour temperature of 2 degrees and a pump inflates an internal bladder which will keep your beer at the right pressure for pouring and no Co2 is required. As mentioned earlier, you will need a good overnight fridge chill of the torps and will need to turn your Sub on about an hour before you want to use it.
Beer Budget?
The Sub is excellent value for money and gets an affordable '££" rating from us.
Check out prices for The Sub here
Check out prices for The Sub Compact here
The Verdict
In my opinion, the Sub is great in terms of quality of beer, ease of use and value for money, you can pick one up for under £100 and get great value for £1.75 a pint. It does require a bit of pre-set up and the torps don't last too long at 4 pints but it certainly gives you flexibility for personal use and for entertaining too which makes it a great option.
Looking for other options? Check out some of the other machines on the market here
Please follow and like us: