Klarstein Home Beer Tap
Beer Budget Rating - ££
Quality of draught beer
9.0/10
Professional pour rating
9.0/10
Pros
Stylish looking
Works with nearly all kegs
Cool beer to your preferred temperature
Good choice of beer kegs available
Delivers 5L of beer
Cons
Requires CO2 cartridges
Small maintenance cost associated
Pre-chilling required
Trickier to use than others
Gas adjustment takes getting used to
What is the Klarstein Home Beer Tap?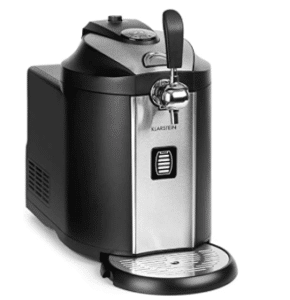 Freshly tapped beer always tastes best and that's where the Klarstein Home Beer Tap comes into it's own.
Utilising internal CO2 cartridges the beer is always poured perfectly at the right pressure to deliver golden foamy goodness to your glass. The draught beer dispenser comes with three gas cartridges included to get the pressure in the pipes right from the beginning and also comes with a universal adaptor for Heineken kegs which don't require CO2 pressure.
It also has an integrated cooling system that you fill with water which cools the beer down to between 2-12 degrees and comes with a temperature selection function as well as pre-set temperature selections so you can enjoy beer chilled as you like it.
As well as keeping your beer cool, the machine actually looks pretty cool itself with an authentic stainless steel body and shiny surface and nicely designed drip tray should your pouring skills not be perfected just yet!
The great thing about it is it's flexibility in terms of beer as it will pretty much work with all types of 5L supermarket mini-kegs which means all sorts of beers are usable and more easily accessible and with kegs around £20 it gets you about 9 pints at about £2.20 a pint keeping them fresh for as long as the life of your keg. For more info on kegs click here
It is recommended to still pre-chill your kegs in the fridge as this will mean once connecting your keg you will be ready in a couple of hours, if not it takes a good day for the machine to chill the keg from room temperature.
As mentioned, the beer tap does use CO2 cartridges and on average you'll get around three 5L kegs use out of the supplied cartridges so it's important to have some in reserve for when they are all used. You can easily pick up a pack of 30 on Amazon for between £15-20
How does it work?
The Klarstein tap is relatively straightforward to set up however it is a little bit trickier than some other draught machines.
You will need to pop the top off your keg and insert the supporting keg rod, put water in the cooling tank and connect up a few more nozzles and rods before you can get going.
The video below is from a very similar model device the H.Koenig BW1880 but is the same way you would set up the Klarstein tap
Beer Budget?
The Klarstein tap is reasonably priced for the features you get and gets a '££" rating from us.
Get yours here
The Verdict
In my opinion, the Klarstein tap is a really good quality tap that gives you lots of beer choice as it works with nearly all your supermarket beers and is great for parties and entertaining. You do need to replace the CO2 canisters so there is a maintenance cost associated but if you don't mind that and what to be able to choose from a wide range of beers then its a good bet.
Please follow and like us: