Beer Keg Taps
Beer Budget Rating - £
Quality of draught beer
7.0/10
Professional pour rating
5.0/10
Pros
Value for money pints
Draught kegs last 30 days
Great for parties
Good range of brands
Portable
Cons
Regular kegs only last 3-4 days
10 hours pre-chilling required
Kegs can be foamy
Not a glamorous pour
Not a permanent solution
What are keg taps?
Available from most supermarket's, Beer Keg tap handles are a fantastic value option for when you are going to be consuming a lot of beer in one go! Most of the keg's are 5 litres in size which means you will get nearly 9 pints out of one and you can comfortably fit them in most fridges. The main snag with most keg taps is that once they are opened, the oxidation process begins in the keg. Every pour sucks in some air so you start to oxidise your beer which means generally for fridge kept kegs, this gives you about 3-4 days life. In all honesty though, once these are cracked, all the juice is going!
How do they work?
These kegs are so easy to use, turn the top vent, pull the tap out and turn it to get a nice flow going. Here is a video above from the Adnams brewery in Suffolk showing you how to get going…
What about draught kegs?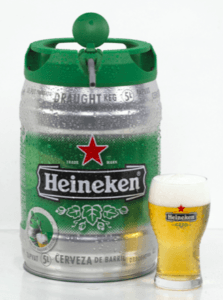 Back in 2007, Heineken released the draught mini-keg making it the first true draught beer keg available. This means that instead of working a pump or flipping open a tap you simply pull the lever on top of the keg and then admire your glorious pour.
These kegs are different to the normal keg taps in that each keg comes with an internal C02 compressor which shifts the beer up the line and stops the contents of the keg coming into contact with the air. The benefit of this is that as there is no real oxidation, the beer will stay fresh for at least days after the keg is opened – not that it will take you 30 days to guzzle it!
First step, as with all kegs is ideally an overnight chill in the fridge. Once sufficiently cold you pull out the plastic fitting on top, clip the handle in the centre of the keg, connect the tap in the groove and then it's time to play bartender…well after you've cleared an initial half glass of foam!
Like the regular keg taps you can't refill the kegs, mainly because you would have to re-gas the C02, but you wouldn't want to do that when a new one will only set you back around another ?20 (roughly ?2.20 a pint). There are plenty of Heineken producing brands available namely Desperado's, Affligem, Pelforth and some weak ones too!
Beer Budget?
Most kegs are very reasonably priced and therefore get a '£' rating from us
Check out Adnams Ghost Ship here
For Draught Kegs click here
The Verdict
Please follow and like us: